It seems easy enough at first glance, right? When compared to loveseats, sofas can comfortably accommodate three people. You could assume it's that simple. But, no. So, how long should a loveseat typically be?
Some love seats are designed for two people to sit on, while others are designed for one person alone; some are as wide as six feet, while others are barely four feet wide.
What is a loveseat?
A loveseat is a specific kind of two-seat couch. It's safe to say that "two-seat couch" and "British two-seaters" mean the same thing. Two cushioned seats are standard. Any two-seater sofa or love seat placed in a S formation is known as a tête-à-tête. It encourages conversation by bringing people in close proximity without crowding them.
Top Benefits of Loveseats
Here are some things you should know about loveseats:
Space-saving design.
For those who are short on square footage but still want to sit in style, a loveseat is a great option. Stylish and comfortable, a loveseat won't take up much room in your home or apartment while yet meeting your needs. The vast majority of these pieces of furniture are compact enough to be easily stored or moved.
Loveseats save you money.
You may make a tiny room look much larger by adding the proper loveseat; however, it is important to avoid spending too much on a large, comfortable sofa, as this will take up more room than is necessary and will wind up costing you more money in the long run. If you're in the market for a new sofa but don't want to spend a fortune, a loveseat is your best bet. They are inexpensive without sacrificing comfort or style, so you may host guests with confidence.
Loveseats offer more sleeping space.
Many modern loveseats come with an optional design feature that converts them into a couch bed, providing extra sleeping room for visitors. This feature can be easily removed or changed to return the loveseat to its regular configuration.
Easy to design with other living room furniture.
In terms of interior design, a loveseat is a must-have for creating symmetry in the living area. Sixty percent of respondents said they would center their home's design around a sofa. Now more than ever, it's possible to furnish a room beautifully without spending hours agonizing over which colors and fabrics go best together thanks to the abundance of pre-assembled, complementary sofa and loveseat sets, as well as ottomans, on the market.
Valid for any room.
Loveseats may be found in a wide variety of shapes, colors, and materials, making them a great choice for spicing up any area and accommodating a wide range of tastes. Loveseats are a popular choice for redecorating since they can serve double duty as both a sofa and an extra set of chairs for visitors.
There are a lot of different loveseats to choose from, but you should prioritize the quality of the fabric and the frame. Although going with the cheapest choice up front may seem like a good idea, it often ends up costing more in the long run due to the need for constant maintenance and repairs.
Try to find items with high-quality construction, including frames made of solid wood, cushions with springs for extra comfort and longevity, thick padding on the pillows, and sturdy upholstery. Find something that will give you the desired level of comfort and visual appeal for an extended period of time without quickly deteriorating under normal use conditions.
Loveseat's Length
The variety allows you to pick the best product for your setting. You shouldn't judge a loveseat just by its measurements, as there is a wide range of available options in terms of length. The number of available seats in a certain loveseat is a function of its cushion size and shape.
Pick a loveseat that works with the decor of your room and can accommodate guests comfortably. Here are several common types of loveseats and the average distance between their arms:
The typical length of a tiny standard loveseat is 52 inches. In comparison to a tiny sofa, the 58-inch length of a medium loveseat is hardly noticeable. Full loveseats, on the other hand, are typically 64 inches in width.
However, there are also smaller sofas that are ideal for two people to cuddle on. This is more substantial than a typical loveseat because it can also function as a sofa. The length of this loveseat couch is 71 inches. Finally, we have the narrow twin loveseats, which are 45 to 51 inches in width. This is intended for a single individual.
Now that we've established the standard length of a loveseat, let's look at its width, depth, and height. We'll answer some of your most pressing loveseat-related queries, too.
Loveseat's Height
Although the breadth of a loveseat cushion might vary, the height is generally consistent. Loveseats often sit 20–21 inches off the ground. A little loveseat that can fit two people is a little taller, coming in at roughly 28 inches.
What Is an Apartment-Sized Loveseat?
Loveseats sized appropriately for apartments may be a better fit than the larger options. They provide the same aesthetic in a more manageable size, making them well suited for smaller spaces and older buildings where corridors and rooms may be more cramped.
You may get loveseats with measurements as little as 30 inches in depth and 58 inches in width, making them ideal for small studio or one-bedroom flats. How can the loveseat's classic good looks be preserved while its footprint is minimized? The back cushion is smaller, allowing the item to be smaller while yet remaining comfortable.
How is a Loveseat and Sofa Different in Size?
There are loveseats on the market with measurements as small as 30 inches in depth and 58 inches in breadth, making them ideal for small studio or one-bedroom apartments. How can I minimize the loveseat without compromising its stylish look? The reduced size of the back cushion makes this product portable while yet providing adequate support.
One of the most blatant ways in which sofas and loveseats can be distinguished from one another is by the amount of cushions. The number of cushions represents the seating area graphically.
A loveseat, which typically seats two people, was created with only two or three cushions. Loveseat cushions come in a wide range of shapes and sizes, but it's unusual to locate more than two complete sets.
What if you want your loveseat size customized? Is it possible?
Customizable sofas and loveseats are available from a wide variety of furniture stores. To fit through a narrow doorway, a standard-size couch, for instance, might need to be shortened or have its back lowered.
You can free up some floor space in a small home by eliminating the couch's or love seat's armrests without sacrificing comfort.
When moving, will a loveseat fit in an SUV?
Almost any SUV on the market can accommodate a loveseat once you collapse the middle row and the backseat. These seats must collapse along their longitudinal axis so that they can slide into the sleeve.
What to Look for When Buying the Best Loveseat
There are a number of elements to consider while choosing the ideal loveseat for your home. Think about the people who will be sitting on the loveseat, the space available, and the purpose the piece will serve before making a purchase. Consider the following details when searching for the ideal loveseat for your home.
Type
In terms of its intended use, there is a wide variety of loveseats to choose from.
Loveseat recliners are often longer on both the top and bottom. While the lever or tab on a manual recliner limits the number of positions available, these chairs are cheaper and easier to place in a space with few electrical outlets.
Futon sofa beds can be used as both a couch and a bed. The framework may feature either wood or metal, or both. Layers on the mattress are sufficiently thick to insulate sleepers from the bed's support structure.
Comfortable outdoor loveseats are a great addition to any patio set. The frames of wicker, teak, wood, and most metal love seats are more resistant to weather.
Size
Loveseats can be found in lengths ranging from 40.5″ to 72″, making them flexible enough to fit in a wide variety of living quarters. In most cases, the depth will be between 28 and 36 inches, and the height will be between 33 and 40 inches.
Frame Material
The structure of a loveseat should be made from durable materials. Longevity is the norm for frames constructed of solid wood and fastened with screws or nails. A frame made from kiln-dried wood with double doweled corners and blocking can last for up to ten years.
Metal, by far, is the strongest and longest-lasting option for a frame. However, a metal frame might cause pressure points in a sofa if the cushions aren't restuffed on a regular basis. To test the loveseat's durability, run your palm along its length to see whether any of the frame's sharp corners protrude through the upholstery.
Upholstery Materials
Fabrics that thin and wear out rapidly are not pleasant or long-lasting. Fabric choices for loveseats are numerous, but some of the more popular are as follows:
Polyester is a popular choice for couches since it is long lasting and easy to care for, even after being exposed to spills and water.
Polyvinyl chloride (PVC) can be made to look like leather while maintaining greater water resistance.
Additionally, polyurethane has emerged as a popular choice for upholstery fabrics. It can endure cuts and punctures thanks to its impermeable nature, resistance to stains, and increased torsion strength.
The leather will last for many years despite daily use. This is the finest upholstery available, yet it also happens to be the most pricey.
Unlike genuine leather, faux leather upholstery does not crack or peel easily and can withstand a lot of wear and tear.
Keep the double rub (DR) grade in mind when shopping for cloth. You can "rub" against the fabric that many times before it wears out. A DR of at least 15,000 is recommended for a loveseat or other piece of household furniture to withstand the rigors of daily use. Furniture used in an office setting, by contrast, usually has to have a DR of 35,000 or higher.
Comfort
It is not just the upholstery material that makes a loveseat pleasant, but also the inner architecture like the springs and the cushion filling. Taking out the cushions and pressing down on the springs through the fabric should reveal their quality. You want them to be close together and appropriately spaced so that they provide firm support without giving too much while still being comfortable.
Pillows can be stuffed using a variety of materials.
Many cushions are stuffed with polyurethane foam, the density of which determines how firm the foam will be.
High-resilience foam offers the best of all worlds, in terms of comfort and longevity.
Plan on spending a lot of time plumping a cushion filled with goose down that has also been combined with feathers.
Goose down and feathers are wrapped around high-density foam to make a cushion that is both soft and robust.
Look for a loveseat with arms measuring between 7 inches and 9 inches in height if you plan on using them as a pillow or a backrest.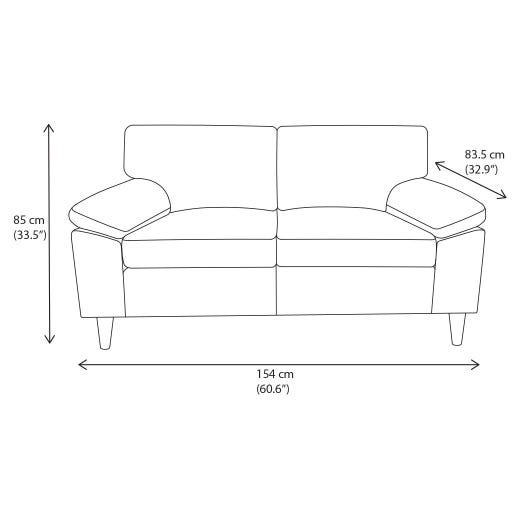 Style
There is a wide variety of loveseats to choose from, including modern designs, vintage reproductions, and more.
Loveseats made nowadays have a modern look yet are based on traditional styles.
The popularity of loveseats from the mid-20th century, specifically the years 1945 to 1969, is on the rise again. This design style is characterized by clean, contemporary lines and shapes.
Fabrics on a tufted loveseat are tugged and folded into a geometric pattern before being attached with buttons.
The back cushions on a Lawson loveseat aren't attached to the frame, making for a more comfortable and supportive seating experience. Softens and cushions the sofa immensely. They provide a classic look with their rolled or squared off sleeves.
Loveseats with an English rolling arm have high backs and tight upholstery for maximum comfort. The brief truncation of the legs gives the piece a refined, classic air.
Loveseats in the Bridgewater collection likewise feature a high back and low, rolled arms, but in a more relaxed and contemporary fashion.
Camelback sofas have a taller back in the middle that slopes down to the arms in one smooth curve. Cushions can be found on the back and armrests of modern camelback loveseats, although in the past they were only found on the seats of the chair.
Colors and Patterns
A loveseat can be found in an infinite number of styles, colors, and patterns. Think about where you'll put it and if you'll need to move it later. A loveseat placed in front of a sunny window, for instance, would benefit from a brighter fabric or design.
A couch with a pattern could be a daring and enjoyable option for people furnishing a larger area with mostly solid-color pieces. A solid, neutral color can be the better choice for a small apartment or dorm room. The frame's color and finish are sometimes customizable as well.
Accessories
The versatility of some loveseats can be further expanded with the help of available attachments. Cupholders, storage space, and power and USB outlets for charging gadgets are among features that can be added to a center console. An ottoman is often sold as a set with a loveseat.
The Best Loveseats of 2022
These recommended goods span several different categories, and were chosen because they excel in the aforementioned areas. Keep reading to learn about some of the most space-efficient loveseats available.
Pottery Barn Turner Square Arm Leather Sofa
The loveseat is 64.5 inches in length, and there are options for even more space all the way up to 103.5 inches in length. The top grain leather sofa can be ordered with two or three seat cushions, roll arms, or slanted arms, and in one of 35 different colors. Since each hide is unique, genuine leather will naturally vary in color and grain. It should also be kept out of direct sunlight to preserve its natural color.
This loveseat is constructed for both comfort and classic good looks with its high back, thick arms, and down-blend-wrapped foam cushions filled with polyester. Loose cushions allow for easier access while cleaning, which is especially useful when caring for leather, which must be cleaned with specialized products. You can keep this loveseat in pristine condition for a long time with just a little TLC.
Technical Details of the Item
Upholstery: Leather
The dimensions are 64.5 by 38.5 by 35 inches, however if you need a bigger sofa, you can always order one.
Only two persons can sit in here.
Pros
Premium, age-softening full grain leather.
Down-blend-wrapped cushions for softness
Soft, down-blend-filled cushions.
Cons
Color and grain variation are natural characteristics of genuine leather.
Calls for rigorous cleaning procedures
Sunlight causes gradual discoloration.
Novogratz Leyla 60″ Tight Back Convertible Sofa
The loveseat's traditional profile is created by the wooden frame made from kiln-dried eucalyptus and features a curved arm for a more welcoming look. Up to 300 lbs. can be carried without any issues thanks to the sturdy construction. It's a great height and depth for most people, has a decent back, and has some storage space beneath the seat for your personal items. High density foam cushions are used to soften the loveseat without making anyone who sits on it feel like they're sinking into it.
Technical Details of the Item
Upholstery: Microfiber
The product's dimensions are 56.3%15%33.86 inches
Only two persons can sit in here.
Pros
Very little set-up is necessary
Padding made of high-density foam
You can have the couch and the loveseat separately if you want.
Concealed compartments beneath the seats
Cons
Seat cushions that are attached to the seats might be a pain to clean.
Scotchgard is not suitable for use on foam cushions.
Novogratz Leyla 60″ Tight Back Convertible Sofa
All-linen upholstery envelops a sturdy metal frame in this attractive loveseat. Each of the two occupants can weigh up to 400 pounds. A huge pocket is located on the outer side of each arm, making it ideal for storing a book, magazines, or even the television remote. The futon's single bed is just the right size for a single sleeper.
The polyurethane foam used in the loveseat's cushions makes them more supportive. Fabric treated to resist mildew can be cleaned by wiping it down with water. It comes in a wide range of nine colors, from bright to subdued: black, navy blue, teal, berry, burnt orange, mustard yellow, gray, light gray, and tan.
Technical Details of the Item
Linen is used for all upholstery.
It measures 60 inches in width, 30 inches in depth, and 32 inches in height.
Only two persons can sit in here.
Pros
Flips into four distinct configurations
Fabric that resists mildew
With a handy storage compartment on each arm,
Several color choices are available.
Cons
If you have valuables in your futon, you may lose them if you sit
Guests staying for an extended period of time will find it uncomfortable.
West Elm Finn Sofa
This loveseat takes its cues from contemporary design, which can be seen in its clean lines, sturdy wood construction, and comfortable sinuous spring seating. It has low VOCs and is GREENGUARD approved. For individualized comfort, you can select from three different seating positions: standard, reclined, or entirely flat.
Technical Details of the Item
Options for upholstery range from plush velvet to rugged canvas.
713632 inches is its dimensional breakdown.
Comfortable for up to three persons in a cosy setting.
Pros
Modifiable dimensions, materials, and hues
The choice between three different heights
Low volatile organic compound emissions (VOC) and GREENGUARD certification.
Inches of depth for a futon: 45
Cons
Adjusts the height of the user's feet and head while in the futon position.
Cleaning Required: As Needed
Andover Mills Edgar Reclining Sofa
This loveseat is not only functional, but also beautiful, as its design works well in both contemporary and classic settings. Upholstery material is a vinyl imitation of leather that is plush without being cumbersome. Elegant in appearance, its dark brown finish is favored by many. The 61-inch loveseat is a good choice for limited areas because it does not include a console that folds out of the way.
Technical Details of the Item
Faux leather upholstery
Dimensions are 38.5″ x 81″ x 38″
Comfortable for up to three persons in a cosy setting.
Pros
A reasonably priced electric recliner
Oversized style
Consola centralis opzionale
Holders for beverages are integrated into the design.
Cons
Best Choice Products Faux Leather Upholstered Modern
To be assembled.
Keep this loveseat in pristine condition by spot-cleaning any discolorations with noncolor mild soap and warm water.
Technical Details of the Item
Polyester velvet used for the upholstery.
47 x 30.5 x 31.5 inches in size.
Only two persons can sit in here.
Pros
Very simple to put together with just two persons.
The polyester upholstery is very soft and comfortable.
Holds up to 500 kilos with ease!
Cons
Cleaning Required: As Needed
Not intended to provide cushy rest
Winston Porter Arrionna 50.4" Wide Outdoor Loveseat
Two foam-filled polyester cushions sit atop a frame with a rounded backrest, slanted arms, and curved sides for added style. Seat cushions are 2 inches thick and removable with washable coverings. Some users may find the frame's backrest uncomfortable, prompting them to seek out supplemental pillows.
You can't go wrong with brown or graphite for your outdoor furniture. You may clean either hue with with soap and water and a gentle cloth.
Technical Details of the Item
Polyester resin wicker and polyester cushions serve as the upholstery.
Product dimensions are 50.4″ x 27.6″ x 31.5″
Only two persons can sit in here.
Pros
Soft, removable foam pads
Simple to clean
Frame and cushions are watertight
You can have a patio set with a table and chairs that match one another.
Cons
You might want to pick up a few more pillows if the backing is particularly hard.
Extending shelf life requires storing at cooler temperatures.
FAQs
Read on for some of the most frequently asked questions concerning loveseats and other soft seating alternatives. You should get in touch with the maker if any other issues develop.
Q: Are sofas and couches the same piece of furniture?
Officially, we can't say that. The term "couch," derived from the French verb "couche," means "to lie down," and is commonly used to describe a sofa without armrests. As opposed to it, a sofa typically features arm rests. The two names are now synonymous with one another.
Q: How long is a typical loveseat?
It's common for the length of a loveseat to be anywhere from 48 to 72 inches.
Q: How many people can fit on a loveseat?
The basic configuration of a loveseat is for two individuals to sit side by side. Each loveseat will indicate its maximum weight and seating capacity in terms of its length and width.
Q: How do I choose a loveseat?
There are a number of considerations that should be made when purchasing a loveseat. Think about the factors and features discussed in this guide, such as the style and type of loveseat you want, where you plan to put it, how long you expect it to last, and whether or not the material's appearance and color scheme will coordinate with your current furnishings and aesthetic preferences. Think about your financial situation and your own tastes and demands.
Conclusion
That clears up our confusion over the typical length of a loveseat. We didn't only address the issue here; we dealt with the loveseat's entire size as well. Further, various loveseats in various sizes. This will let us gauge the range of sizes and single out a specific specimen with ease.